-25%

Zoom the image with the mouse
Gingerbread Cookies Family Jar - Personalized Christmas Decoration & Gift
EXTRA SAVING! SAVE 10% ON YOUR ORDER WITH BLACK FRIDAY CODE
BLACK10
OFF 25% NOW
Surprise your family with this adorable
Gingerbread Cookies Family Jar!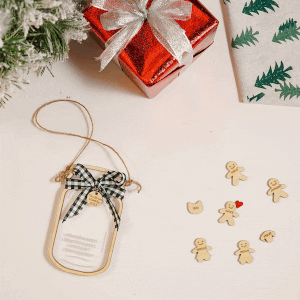 HOW TO ORDER:
1. Choose the number of your family members from the menu
2. Add your family name to the family name box, you can also follow it with a year if you want to. Example: The Smiths 2021
3. Add your family members' names with their charm type following to the family member box. Example: John (M), Helen (F), Mom (A), Butter(D), Mr.Wilson(C),...
4. Add your quote to the quote box. Leave it blank if you don't want to print any quotes on the jar. Input "default" if you want to use our original quote.
PRODUCT INFO:
This ornament is a charming decoration for your home this holiday season, this jar ornament fits perfectly on your Christmas tree or with your Christmas stocking.
5 types of gingerbread charms include male (M), female (F), angel (A), cat (C) & dog (D) to suit your family members.
Made to order
Material: wood, acrylic, ribbon
Measures: 
2-8 charms jar: Height: 5.3 inches Width: 3.1 inches
9-12 charms jar: Height: 8.1 inches Width: 4.7 inches
All of our products are handmade. The processing will take 10 days, shipping time for in-stock-products will take 1-2 weeks. For customized products, please keep in mind that our artists will need another 7 days to craft the items according to your needs. And for products listed as "Preorder," please allow 4-6 weeks for delivery. 
Our team will continuously update your tracking status and send you a notification email. Please contact us at support@homerri.com if you have any questions.

If your product is damaged or defected, please kindly email us with the subject line "Return: Damage or Defected item with your order #" along with a photograph so we can immediately look into sending you a new one.

See more about our return policy here: Homerri's Return & Refund policy.