SWEET SUGAR COOKIE EASTER EGG NESTS - Easter Baking Recipes
Not only are these a really sweet little dessert, but they make adorable edible place cards for your Easter table setting. Especially for a kid's table. Just print of the names of all your guests, cut them out, and tape them to a toothpick. Simple but sweet!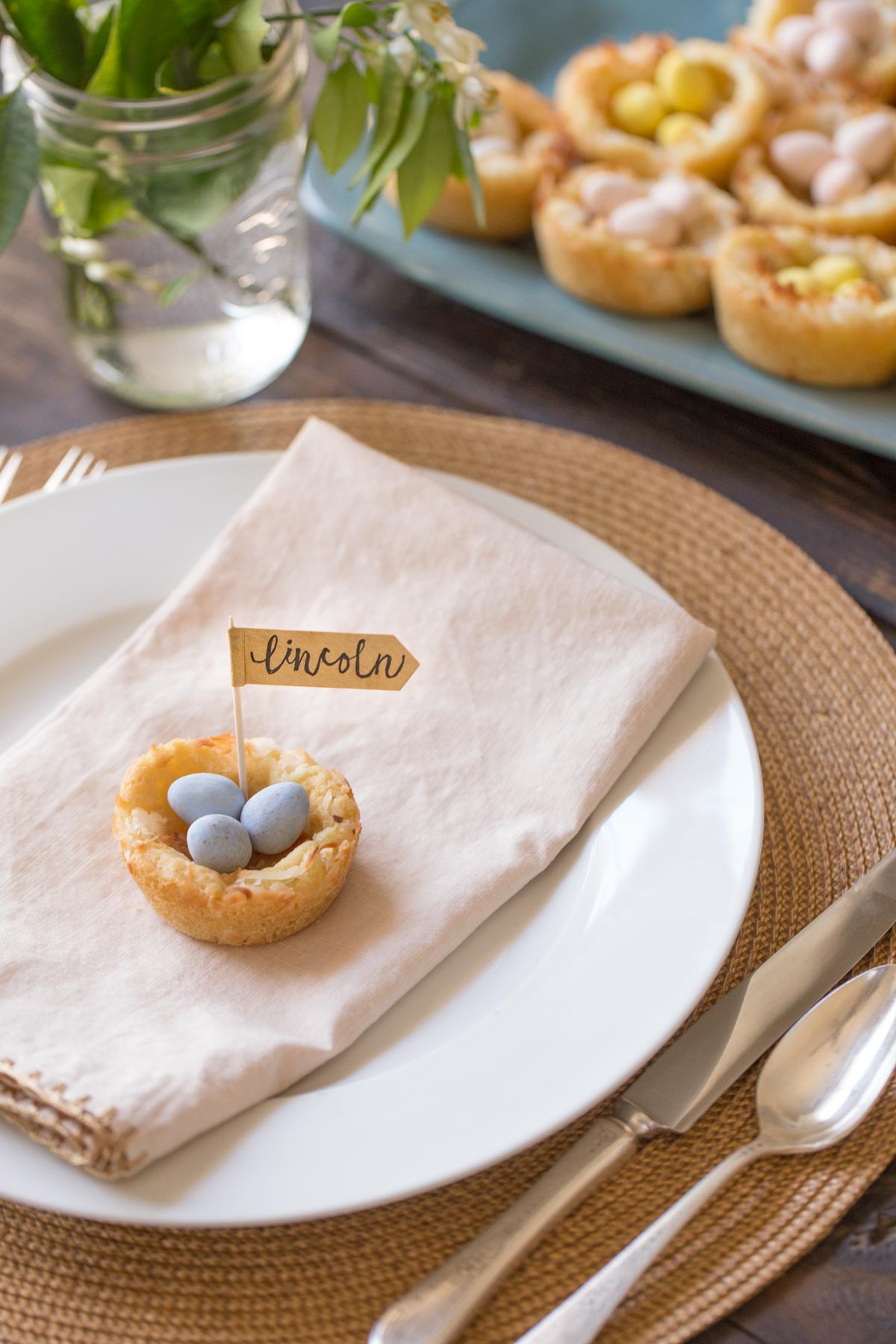 INGREDIENTS
2 1/2 cups

all purpose flour

1 teaspoon

baking powder

1 teaspoon

baking soda

1/4 teaspoon

salt

1/2 cup

butter softened

1/2 cup

vegetable oil

1 1/2 cup

sugar

1

egg

1 teaspoon

vanilla extract

1/4 teaspoon

almond extract

1 1/2 cups

sweetened shredded coconut

72

egg shaped candies (I used

2

bags of mini Cadbury chocolate eggs)
INSTRUCTIONS
Preheat oven to 350 degrees.
In a medium bowl, combine flour, baking soda, baking powder, and salt and mix them together and set aside.
In the bowl of an electric mixer, cream together butter, sugar and oil on medium speed. Add the egg, vanilla extract, and almond extract.
Gradually add the flour mixture to the wet ingredients, and mix on low speed until a dough is formed.
Divide the dough into 24 standard sized greased muffin tin cups. Press the dough evenly into the bottom of each muffin tin well, and top with 1 tablespoon of coconut. Spread the coconut to the edges. It will shrink a bit as it bakes.
Bake the cookie nests for 11-13 minutes. The coconut should be starting to brown.
Allow the cookie nests to cool almost completely (about 10 minutes) before removing to a cooling rack. I think it helps to give the cookie nests a little "twist" to loosen them before removing.
When they are completely cooled, place three egg candies in each one.
With this recipe, you can serve 24 servings for your family at the party. If you need more, just multiply the amount.